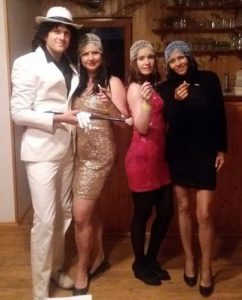 Our band has released this time on the path direction of Mníšek in Liberec.  In more info on the football field ran the festival where we invite organizers as a performer.
At the festival we arrived at around eight o'clock in the evening. The trip was awesome as always and after parking in the area, the US took a very nice lady who took us to our dressing room.
On the scene we were expected at 9 pm, so we had a lot of time, and so I went to pass through the area. When we arrived, the band played and we were a bit disappointed that so few people dancing, and we were hoping that when our performance is everything changes, and people start to really have fun. In our survey, we caught a good drink, and after returning to the locker room, we slowly began to prepare.  Preparation of the US do not last long. We have a lot of years, and so we were ready in half an hour, and on the way to the stage, where we did the nice lady. While waiting for a call from the moderator, we were so focused on the course and with butterflies in my stomach got to their seats.